"Keep going. Do not let yourselves be robbed of joy and hope". This was Pope Francis' first message upon his arrival in Colombia. Former ambassador César Mauricio Velásquez analyzed this trip in Word, in the July-August issue.
Pope Francis returns to Latin America. This time he visits four cities in Colombia where the greatness and goodness of the continent is lived and reflected, but also its serious problems and challenges.
A continent of contrast: rich in natural and spiritual resources but at the same time with high rates of poverty, crime and exclusion. A region full of youth but threatened by drugs, unemployment and new cheap populisms that have degraded into 21st century dictatorships, full of ideology, blood and corruption in the name of the people.
Pope Francis will find a Colombia that seeks peace, but not at any price, not simply with decrees and papers as has been imposed. His message will have to raise points of unity, respect for institutions and commitment to the social doctrine of the Church and thus respond to the problems of inequality, violence and corruption. It will be a journey to the bottom of the problems generated by drugs and crime. Today, while the so-called peace agreement between the FARC and the Government is being implemented, coca crops are on the rise, from 40,000 hectares in 2010 to 180,000. A clear setback aggravated by other points of this negotiation that opens doors to the laundering of billions of dollars from drug traffickers and guerrillas, without much justice or truth. Reason why, among others, the no vote won in the plebiscite of October 2, 2016 and was later processed without legitimacy before Congress and without popular support.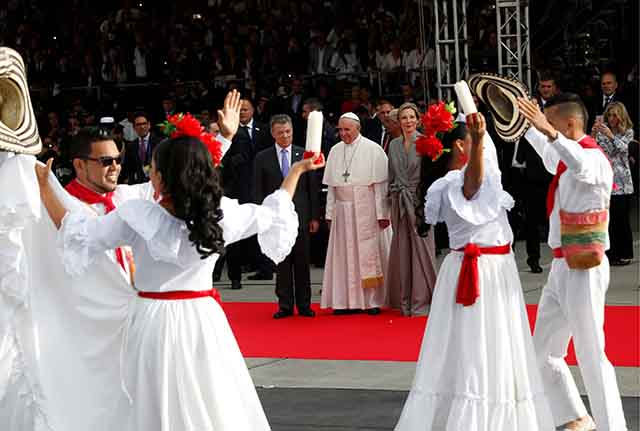 Like his predecessors - St. John Paul II in 1986 and Blessed Paul VI in 1968 - Pope Francis will condemn the so-called "culture of death", that tendency and eagerness of some to be god in order to end the lives of others, not only with weapons and bombs, but also with abortion, euthanasia and corruption that robs the common good. In this sense, his voice will encourage personal change according to Christ, the only model capable of responding to the whole of existence, because there is no "low-cost" Christianity, as Francis has called it, reflecting on the mediocrity of trinket Christianity, incapable of participating in personal and social transformations. They will be four days of reflection, a visit that will help to refresh the spiritual life of millions of Colombians and to remember that inner peace is indispensable to achieve outer peace, because authentic reconciliation requires truth and justice, solid ground to be able to take a first step.