On July 31, the Holy Father entrusted the WYDW to the Virgin, according to a press release from the The VaticanPope Francis went, as usual, to the Basilica of St. Mary Major, where he paused in prayer before the icon of Our Lady Salus Populi Romani, commending to her the journey and the thousands of young people he will meet in the coming days".
This is the 37th WYD and the first after the pandemic. The plane in which the Pope traveled to WYD took off from Fiumicino airport at 8 am (Rome time). The Pope landed in Lisbon three hours later (11 a.m. from Rome and Madrid, 10 a.m. from Lisbon). Also on the Pope's plane were his companions, about 70 journalists from international newspapers and the crew.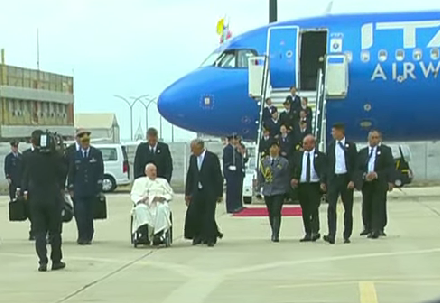 Pope's messages to France and Spain as he flew over them
Before the flight, the Pope sent a farewell telegram to the Italian President. While flying over France, he sent the following message to the president, Emmanuel Macron: "As I pass through French airspace on my way to Portugal, I send greetings of good wishes to your excellency and your fellow citizens while assuring you of my prayers for the peace and well-being of the nation."
In turn, while flying over Spain, the Pontiff sent a message to King Felipe VI: "I send cordial greetings to Your Majesty, the members of the royal family and the people of Spain as I fly over your country on my way to Portugal. Assuring all of you to remember you in my prayers, I invoke upon this kingdom the Almighty God's blessings of serenity and joy."
Landing in Lisbon
The Pope landed at the Figo Maduro Air Base airport and was received by the President of Portugal, Marcelo Rebelo de Sousa, with whom he will have a brief conversation in the VIP lounge. He will then travel by car to the National Palace of Belém, the President's residence, for the welcoming ceremony. Afterwards, Francis will be received by the political and religious authorities at the Belém Cultural Center.
After lunch, Francis will meet with the President of the Assembly of the Republic, Augusto Ernesto dos Santos Silva, and with the Prime Minister, António Costa.
The Pope's agenda for today will close with vespers at the Royal Monastery of Santa Maria di Belém accompanied by the local clergy.