"Go Forth And Do The Work of Christ" is what Carol Enhua has been doing her entire life. Perhaps that may be why Pope Francis has recognized her efforts and ministry.
It's not every day you meet someone who has been knighted. However, among 1.3 billion Catholics around the world, Carol Enuha received the immense honor of receiving the Lady of St. Sylvester ribbon from Pope Francis. This special honor is bestowed on lay people whose altruism and philanthropy positively impact their communities, who "go out and do the work of Christ" and take their vocation of service seriously.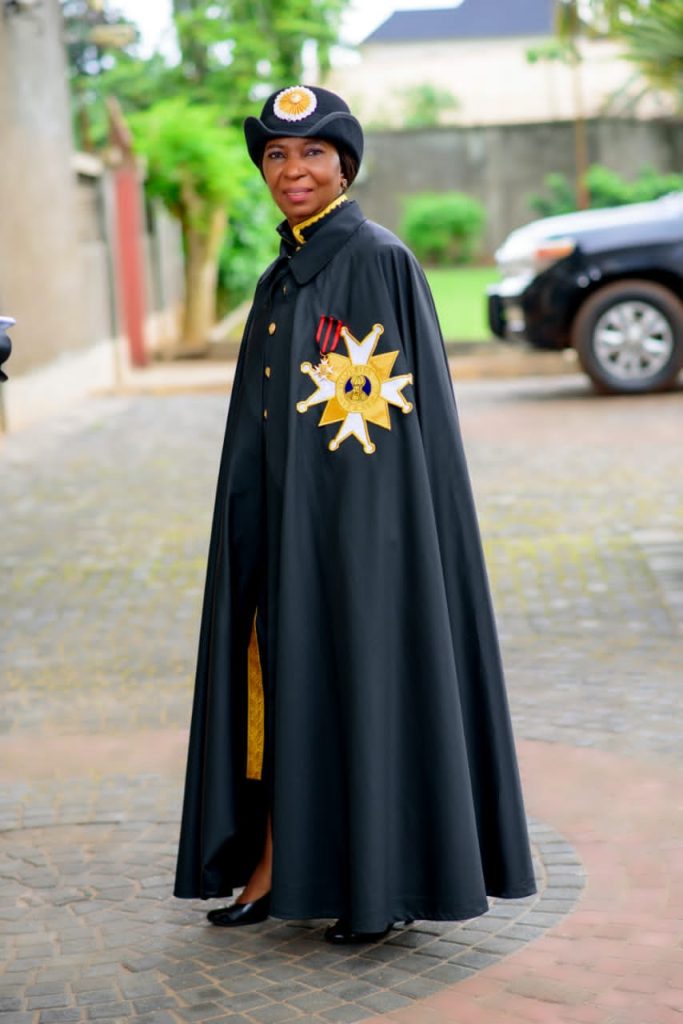 The Order of St. Sylvester was instituted by Pope Gregory XVI and later reformed. This prestigious decoration is awarded to lay men and women who are active members of their Church and make positive changes in the lives of their brethren.
Omnes sat down with Carol and discovered she has always listened to the 'call' Jesus placed in her heart. Growing up in Nigeria, Carol witnessed abject poverty and hopelessness in her local communities.
The Good Samaritan
At thirty years old, she began her ministry in Lagos, Nigeria. Carol always felt called to serve the Church. She remarked, "When I see a need, I help". For more than forty years, Carol, with the help of her husband, Engr. Hyacinth Enuha has created solutions for her Catholic neighbors and has ignited the hope of many when there was none.
It is no surprise that Carol was given this unique Papal award. Her dedication to her community is impressive. Carol shared how she once saw a school in Nigeria that was "dilapidated, with no roof." The Good Samaritan that she was, and still is, provided the necessary funds for the building to be torn down and then had it rebuilt.
"Destroy this temple, and I will raise it again in three days." John, 2:19. What did Jesus mean when he said these words to the Pharisees? Perhaps with Him, nothing can be destroyed. But, if we are Christ-like in our words, thoughts, and deeds, we can do all things through Christ.
In addition, Carol raised money to pay for two hundred people who needed cataract and glaucoma surgery, provided eye exams by entomologists, and distributed glasses to those in need. "You meet them where their points of needs are," said Carol. And she does.
She also served as president of the Lyons Club and during her tenure, Carol initiated numerous charitable acts and raised significant money to further her missionary work. However, her efforts continued. For example, when local parishes in Nigeria needed pews, Carol donated over two hundred. In addition, she donated land in Ketu, Lagos, to the Oblates of Saint Joseph to construct a church. The list continues. Carol rolls up her sleeves and gets to work when there is a need. We know that Jesus taught us that it's more rewarding to give than to receive, and Carol looks not to acquire gifts but rather to give.
A perfect combination
Carol met her husband, Engr. Hyacinthn, an engineer, when he was on a business trip in Nigeria. They would eventually get married. And would travel back and forth to Delaware, where they had a second home for many years. However, in 2015, they moved permanently to New York City and called The Big Apple their new home, along with their children and grandchildren.
Her award and the recognition of her philanthropy have not gone to her head; she remains humble and seeks to serve in any way she can in her daily life and at her local parishes, where she loves to attend Mass, pray, and bond with fellow parishioners. She likes many things about her local Church; for example, "There is a sense of community; a lot of bonding among the parishioners, and you can really feel it." And people care about you." She also appreciates when fellow parish members "… call to find out where you have been when they don't see you." Carol also commented on how friendly the parishioners are. There's a palpable sense of support.
Her ministry continues, and her faith is steadfast. She is a starting member and pioneer secretary for the Legion of Mary and Our Lady of the Cenacle, LOM, and she takes her Papal award seriously. Her mission is still the same: She strives to help her community, restore someone's confidence, instill God's eternal love, and rebuild whatever may be broken, whether a person's heart, faith, or a building.
With God everything is possible
Life is filled with blessings, but there are seasons when we are all tested. But Carol's faith does not waiver. Throughout our conversation, she repeatedly said it is "always at the appointed time." "Don't lose hope!"
She shared that the Lord was and remained near when her husband had an enlarged heart. "In intense troubles and needs, God has been faithful and our ever-present help twenty-four seven."
Carol and her family's motto is," With God, all things are possible." Therefore, with Carol, her husband, and the support and love of her children Sandy, Uche, Abua, and Oluchi, and their sweet grandchildren, Harry, Charlie, and Somtochukwu, there is nothing they cannot do when they embody the virtues that the good Lord bestowed upon us. And, when Carol and her husband's family members see the simple eloquence of the example by which they live, goodness and mercy shall multiply.