Mon Carmelo Fidel Marcaida comes from a Catholic family and entered the seminary at a very young age. He studied theology at the Bidasoa International Seminary in Pamplona. With great simplicity and good humor he tells us about his experience and pastoral work at present, as well as the challenges that a priest lives in the Philippines today. He is currently parochial vicar in the diocese of Masbate.
What was your vocation like?
-I come from a very Catholic family, and I have an uncle who is a priest. I entered the Minor Seminary when I was 12 years old, but I had no idea what it was, I went because some friends of mine were there. I was about 15 years old when I began to discover my vocation. Seeing the priests at Mass, I thought: "I want one day to go out and celebrate Mass like them". That's how it all started.
After four years in the Minor Seminary, I decided to enter the Major Seminary to become a priest. But I was 17 years old and there came a time when I thought: "No, I'm too young and I'm already giving my whole life to be a priest. I haven't enjoyed any of my life yet, it's too soon, I'm not sure yet." Besides, I was in a moment of great spiritual dryness. I talked to my parents and told them I wanted to leave the seminary. So I went to another university, to study another career.
I wanted to try to know myself well, making sure that the Lord was calling me. I played soccer at a university, I had many friends, many parties, a normal life of a university student, which is very different from the life of a seminarian. But after almost two years I said to myself: "No, I believe that the Lord is calling me to be a priest". I didn't know what was going to happen, but I decided to think about it. I spent five months in discernment, with prayer, spiritual direction, formation, Mass... Thank God, after those five months I spoke with the bishop and my formator and decided to return to the seminary.
How did you come to Pamplona to do your studies?
I did four years of philosophy and then the rector called me to talk about the possibility of studying theology. The rector asked me where I wanted to study and I told him that I wanted to study in Manila, which is very close to my city and was very convenient for me. But he told me: "We want to send you to Spain to study theology there". I was in shock and then I started crying in front of the rector. I was so scared and I told him: "I can't, I can't. I study, but I'm not that smart. I study, but I am not smart enough to be able to be out of the country and do another degree in another language. No, no, no, no way, I'm not going to do it, it's impossible, I can't do it".
I kept crying, so the rector told me: "Come on, you better go to the chapel, pray a little and in two weeks we'll talk again". I went to the chapel right away. I didn't understand anything. I said to myself: "How can this be? I want to decide my future, I have everything planned and it is clear to me that I am going to study in Manila. I kept saying to the Lord: "This going to Spain, it is not your will, is it? I cannot do it, and You know it", I was talking to Him like this.
It was two weeks of very intense prayer. Then I began to think that being a priest is pure obedience to the will of the Lord and the will of the bishop, who is an instrument of the Holy Spirit. I thought that, when I became a priest, I would always have to be willing to do the Lord's will and that going to Spain was his will at that moment. I decided to accept out of pure obedience. At least try, because, to get the scholarship to study in Spain or Rome you have to compete among dioceses and among seminarians, they make you interviews, exams....
We were eight seminarians for a scholarship. Imagine that. I was with them and I saw that they were very intelligent and I thought for sure they were not going to give it to me. They were among the best in Philippinesand they chose me! I thought, "Surely the Holy Spirit is moving around here".
How was your experience in Spain?
When I arrived at the seminary in Spain, the first thing I did was to go directly to the chapel and get on my knees and pray: "Lord, I am already here, I know that it is your will, I know that you have brought me here and I trust that you are going to take me back to the Philippines without any failed subjects".
Then, it was a difficult process, it was very hard for me to learn Spanish and to be with people from different countries and cultures. But it is also true that Bidasoa welcomed me very well, and the first thing I felt was: "I am at home". Bidasoa made me feel like a member of a big family, with people who are always looking out for everything you need. Bidasoa has helped me a lot. I always say that being ordained a priest has been the fruit of prayer: of my parents, of my friends, of the people, and my own prayer too, despite my failures, of being a sinner and not being worthy to receive ordination and the priesthood.
What is your current pastoral work?
-I am in a parish as a parochial vicar, we are three priests (one pastor and two vicars). I teach Latin at the Minor Seminary and Spanish at a university here in my diocese (although I don't speak it very well, I teach Spanish).
He speaks it very well!
(laughs)
How do you value the support of the benefactors of the CARF Foundation in facilitating the studies of priests or future priests in Rome or Pamplona?
-Here in the Philippines, studying in the seminary is very expensive. There are many boys who want to become priests, but because of money they don't enter the seminary. And that makes me very sad and worries me a lot. I am very grateful to have parents who have been able to support me and the Foundation. CARFIt has helped me a lot to be able to respond well to the call of the Lord. Besides, they take you to study in the best university, the best seminary, you are in a huge house (for me it is like a five-star hotel, without comparison with the seminaries here in the Philippines) and with the best education to form me well and then administer the sacraments to the people who need them. For that I am very grateful. Paying for the seminary is not easy.
Once they have finished their studies, the CARF Foundation gives them the famous backpack of sacred vessels. What does it contain?
-It has a chalice, a paten, cruets for wine and water, and also everything you need for the anointing of the sick, baptisms and confession. Only with this backpack, you have everything you need to celebrate any sacrament.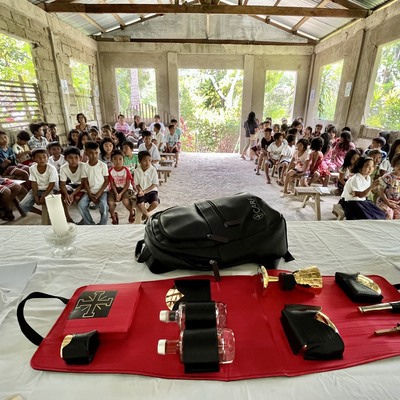 I have used it many times, because here in the Philippines there are many barrios. In my parish we say about 5 masses a day, one in the parish and four outside, in the chapels, in the barrios, in the mountains... You can't imagine what the life of a priest is like here. In Spain it is very different, because you can get anywhere by car. Here you have to ride a horse, a boat, a boat... It's a story. You have to travel for hours, walk on trails or rivers to get to a neighborhood to celebrate Holy Mass. That's why I'm very grateful to the Foundation CARF for the backpack.
Then this backpack is very important for your activity.
-Yes, it is very important. I always have it next to my door, like a doctor, who has to be always ready for everything. "Father, see if you can celebrate Mass or administer the anointing"..., and I have everything there.
When I celebrated Holy Mass for the first time with this backpack, the truth is that I was reminded of my time in the seminary. One day I was asked: "Why do you want to become a priest? And I answered that to bring to the people the Eucharist, which is the source of Christian life. Here in the Philippines there are many places that have the possibility of receiving Communion only once a month. I have seen so many people who are thirsty for the sacraments, especially the sacrament of the Eucharist, and sometimes the priests do not come to celebrate Mass for them. So one of the reasons I wanted to be a priest was to bring the Eucharist to the people, and with this backpack I am fulfilling that dream. Surely the Lord has planted all these desires in my heart, to want to be a priest to bring the sacraments to these neighborhoods.
Do you have any anecdotes related to this backpack?
-I don't know if you know the movie John Wickwhich is Keanu Reeves' action movie. He has a backpack of weapons, guns, bullets, bombs, and he always carries it with him too. One time I took the backpack out in a neighborhood and opened it. I put it on the table and some kids said to me, "You look like John Wick, who always carries his gun backpack, and you, Mon Carmelo, always carry that priest backpack too." I laughed so hard. Yes, it is my gun satchel. I have been ordained to bring the sacraments to the people where the priests do not reach. With this backpack I am doing all that. It has been very easy. This backpack, here at least, costs a lot of money. So I am very grateful for this gift. I call it my gun backpack, my doctor's backpack. But gun backpack sounds better. It is complete, it has everything.
I am really enjoying it very much. After 15 years of waiting, this moment has come to be able to celebrate Mass, to be with the people, listening, praying, administering the sacraments....
Thanks to the CARF Foundation, I am eternally grateful. I ask the benefactors to continue helping to be able to buy the briefcases, how many people will benefit from this briefcase. How many people will be able to receive the Lord for their help. A benefactress of the CARF Foundation, when they gave it to me, told me: "Don't forget us when you celebrate Holy Mass. Every time I open this backpack, I remember and pray for them. I always remember.