Although all of us in the Church are involved in this in one way or another, on other occasions many people perceive a call to become more directly involved in the service of others in the charitable and social action that Caritas, Manos Unidas and other institutions may involve, with direct attention to the poorest and most excluded, or to the homeless, as in the case we see below.
In the cities of Denver and Philadelphia, in the United States, a group of missionary volunteers travels through the neighborhoods befriending people who are homeless and living on the streets. The members of Christ in the city are convinced that one of the most serious problems of homelessness is the breakdown of interpersonal relationships.
Missionaries in the neighborhood of the city
As a result, these volunteers spend more than 38,000 hours a year accompanying, talking to and lovingly serving thousands of homeless people. In addition to the volunteering itself, Christ in the city emphasizes the preparation of its members. For this reason, the group has an ongoing formation program based on four basic pillars: human, spiritual, intellectual and apostolic.
Among the organization's activities are weekly meals with groups of homeless people, street ministry to befriend the homeless, mission trips and presentations to explain and promote volunteerism. This year Christ in the city has more than 47 members who participate in the various tasks.
We spoke with Meaghan Thibodeaux, one of these missionaries, who shared her testimony with Omnes to explain what this form of evangelization consists of, the importance of formation in volunteer work and the encounter with Christ that can take place at any time and place.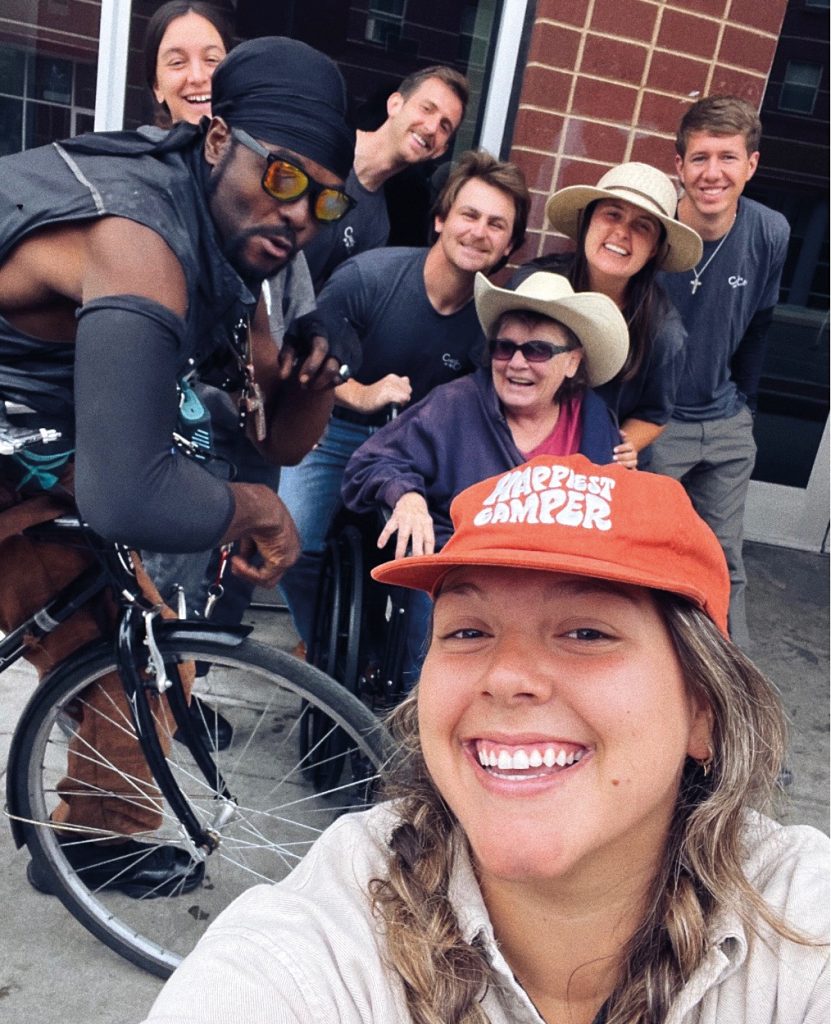 What does this volunteering consist of?
–Christ in the city is a year-long mission program where missionaries from all over the world live in community together while striving to know, love and serve the poor. It is a formation program where the missionaries walk the streets of Denver or Philadelphia multiple times a week and encounter the homeless. We pray that by consistently showing up for the homeless, they will remember their human dignity!
Why is Christ in the city a good method of evangelization?
– We meet the homeless where they are at! There is no agenda to our ministry- we are simply there to love the person in front of us. I have heard numerous times from the homeless how we make them feel like people again because we truly are just there for friendship. And through these friendships, we have seen countless transformations! These genuine friendships become the best environment to start talking about important things in life and to share, in a very natural way, our own faith, God, and our love for Christ.
What encouraged you to start volunteering?
– I have always felt closest to the Lord through service. During my senior year of college, I started doing street walks with the homeless in Baton Rouge, and I fell in love with this type of ministry. Through this experience, I knew the Lord was calling me to go all in, specifically at Christ in the city.
What is the most valuable thing you've learned from volunteering with Christ in the city?
– Every person and every story are worth listening to- especially because Christ resides in everyone. We all have life experiences that have shaped us into the people we are, and if we truly take the time to get to know a person, we will see how the Lord is living in them.
Why is formation important in Christ in the city?
– Our formation allows us to become lifelong missionaries! Although the program is only one or two years, the hope is that the formation we receive while being yearlong missionaries will allow us to go into the world and bring Christ to every person. We receive human, intellectual, spiritual and apostolic formation at "Christ in the city",and these pillars of formation allow us to better align our lives to the heart, mind, thoughts and actions of Christ.
Many people are embarrassed to approach and talk to someone on the street, how can they overcome this shyness?
– I always say the easiest thing to do is smile and tell someone your name, and from there, the homeless will probably desire to share their name with you as well! After this, it is easy to ask how they are doing. Sharing yourself with them first allows them to feel free to share themselves as well.
In volunteer work it is very easy to put the focus on oneself, forgetting that what is important is the encounter with others. What advice would you give so that volunteers see Christ in their friends on the street?
– We must remember our littleness. We are only able to accomplish the things we do because of God; we must remember that we are vessels, and all of the beautiful things we can do are because the Lord has called us to it. Christ is present in every person, and by trying our best to listen to and love others, we are given eyes and ears that are able to see Jesus in them!
Can you share with us a story that impacted you from volunteering and that you think shows the essence of "Christ in the city"?
– One of my closest homeless friends has been on the streets for many years. On his birthday this past year, we took him out for lunch and hot chocolate! On our way back to his tent, he told us that he had prayed for a long time for friends, and we finally showed up. Through this friendship, he has been inspired to get sober. He reminds me that we are not all that different. Although I live in a home and he lives on the streets, we all desire human connections that inspire us to become the best version of ourselves!