The Catholic audiovisual media network, founded by Mother Angelica, begins broadcasting today, the Solemnity of the Immaculate Conception of Mary, on the main Spanish media platforms.
EWTN - Eternal Word Television Network - was born from the initiative of the Franciscan Mother Angelica who, together with six nuns, founded a small television channel with the aim of being a means of proclaiming the truth as defined by the Magisterium of the Catholic Church. Since its inauguration in August 1981, EWTN has grown to become the largest religious media network in the world.
As of today, EWTN is present on the channels of the following platforms: Movistar - 143, Vodafone - 212 and Orange - 92with which more than 7 million households Spanish viewers will have the possibility of accessing content designed for the whole family and with a wide variety of offerings. EWTN España's own programming will be broadcast from 9h to 13h (Outside these hours, it is not EWTN Spain). The rest of the day, the programming will be available on your Youtube channel.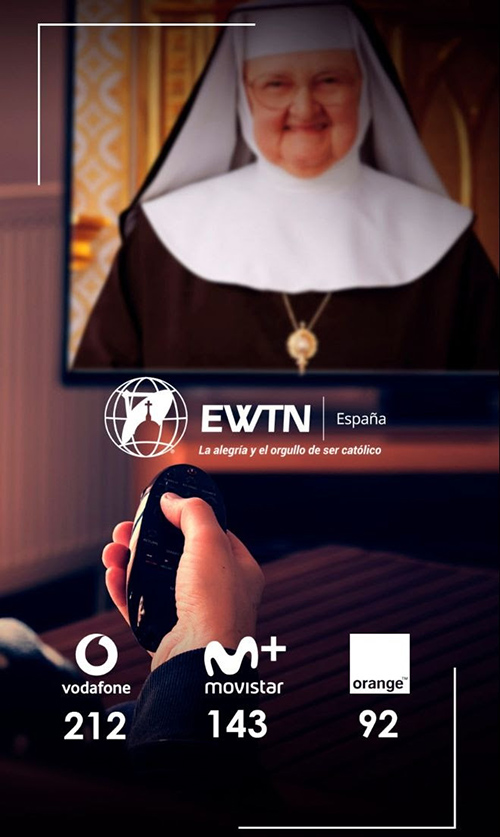 Among the contents The programs that can be seen on EWTN starting today include all Vatican events, special programming for times such as Christmas or Lent, movies, talks and debates, and cartoons for the youngest viewers.
EWTN has no advertising and is financed exclusively by donations, so they continue to ask for help to make this project a reality. informative and educational to bring people closer to the faith, to defend and grow Christian values in our society.