Petra de San José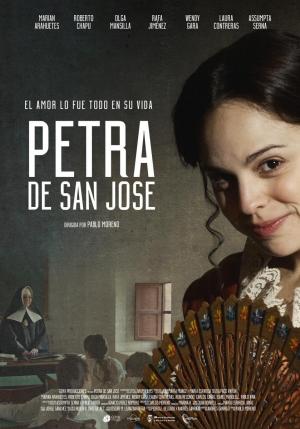 AddressPablo Moreno
ScriptAndrés Garrido and Pedro Delgado
Country: Spain
Year: 2022
In the mid-nineteenth century, in southern Spain, a girl in love with her boyfriend begins to experience signs that will lead her to question her entire existence. A century later, two partisans loot and burn a shrine in Barcelona, taking with them a cloth sack with a curious and macabre content.
Personal aspect of the supernatural, Petra de San José tells a story of sanctity and redemption, through jumps in time that tell the story of two tomb robbers during the Spanish Civil War, as well as the story of a woman waiting for her happy marriage. The film is born with the vocation of showing the goodness of a saint during her lifetime and the graces she continues to bestow after her death. To do so, it begins in the deep Andalusia of the 19th century, in the wanderings of a laughing girl in love who begins to experience divine signs that gradually change her way of life. First she will break up with her boyfriend, and little by little she will adopt rules of piety that will lead her to her true vocation: caring for the poor and helpless.
Intertwining the sacking of the Royal Sanctuary of San José de la Montaña, the death of Prim and the uprising of 1936, Petra de San José (1845-1906) is a historical-religious film that portrays the tragedy of a poor Spain, which had in the drama of this persevering character a work recognized in his beatification by St. John Paul II (1994). Modestly but carefully produced, the touching story of surrender also provides a somewhat sanitized but transparent testimony about the situation in Spain during both the 19th and 20th centuries, as well as the role of the religious congregations of the Catholic Church, especially the Mothers of the homeless.
With a careful hand and measured cinematography, Pablo Moreno, Pedro Delgado and Andrés Garrido, who between them put together a copious filmography of piousness.Holy Land. The last pilgrim (reviewed in Omnes), Fatima, Poveda, Claret, Freedom Network, etc.They bring us a careful production, with a large cast and respectable numbers. A stimulating play for all audiences, which tells the story of a challenging but inspiring journey.