The clothing containers that we see in many parts of our cities contain more than just textiles: a process in which collection, sorting, reuse, recycling, social donation and sale of clothes converge, in which more than a thousand people participate directly. A pioneering project about which Omnes has talked to Albert Alberichdirector Moda re-.
-How was this Moda-Re project born?
Moda re- is Cáritas Española's response to the need to create employment for the most vulnerable groups and at the same time provide a more efficient response to the environmental challenge represented by the correct treatment of used clothing.
The Caritas confederation has a long history with used clothing, intended to alleviate the needs of the most vulnerable people. Over the years, the collection and reuse of these clothes has become an element of job creation for these same people, increasingly confident that employment is the best way to reintegrate into society.
In order, therefore, to continue managing textile waste, face the new environmental challenges and continue betting on job creation for the most vulnerable people, in 2018 Moda re- was born, which ends up being constituted as a Cooperative in March 2020.
Moda re- has generated some 1,000 jobs, more than half of which are for people in a situation or at risk of social exclusion.

Albert Alberich.

Fashion Director re-
-How has it been received by the diocesan Caritas?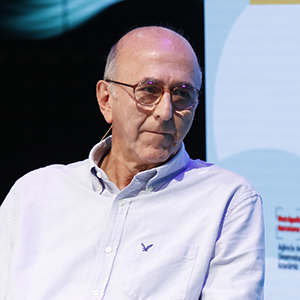 Moda re-, after all, is the result of the union of a large number of insertion companies that have been working for social justice through the reuse of clothing.
Today, 42 Diocesan Caritas from all over Spain are part of Moda re- with their respective insertion companies. This union of forces has allowed Moda re- to continue growing in the creation of jobs (today more than a thousand) and care for the environment.
Together we are working to make Moda re- one of Europe's most successful collection, reuse and preparation for recycling projects.
For the different Caritas, its adaptation to Moda re- is simple, because the mission and values of the project are the same that Caritas has maintained and preserved in its trajectory. However, from Moda re- we bet on the dignity of the delivery of clothes. From Moda re- we also bet on the natural evolution of the model, deepening in the dignification of the delivery of clothes. Now, vulnerable people, derived from the services of Caritas, live a fully normalized shopping experience, like any customer: they come to one of our Moda re- stores, choose according to their tastes the clothes they want to wear, try them on if they wish, and deliver their social card instead of a credit card or cash at the time of payment.
- How many people benefit from the project?
Through the total of the activity we develop, so far Moda re- has generated about 1,000 jobs, of which more than half are destined to people in situation or risk of social exclusion who carry out within our project their insertion itineraries. Likewise, through our stores we have donated more than 600,000 garments annually to people in need.
-How is this double task of labor inclusion and training, together with the ecological impact, carried out?
As our project encompasses the full circle of used clothing: collection, sorting, reuse, recycling, social donation and sale, both tasks go hand in hand in each of the processes.
Through the opening of our second-hand clothing stores, where in addition to the aforementioned social delivery, we sell garments to the general public, we generate employment for groups in situations of social exclusion. We are also directly linked to the care of the planet, promoting the maximum use of all raw materials, as well as sustainable and responsible consumption through the commercial offer of our stores.
All income generated by the project is used for our own development and growth, as we are not for profit. Currently, 60% of the people employed by Moda re-, access to a normalized employment after passing through an insertion position. Our permanent goal is that more and more people in situation or risk of social exclusion can work with us, thus acquiring the skills that allow them to later jump to the ordinary company.
This must be combined with our increasing efforts to achieve climate neutrality in order to start generating a positive environmental impact through different actions: automatic textile sorting technology to recycle those fabrics that are not suitable for donation and sale, in order to generate new fibers and reduce textile production, the acquisition of electric vehicles or the installation of photovoltaic energy to supply the project in a sustainable manner.
Currently, 60% of the people employed by Moda re-, access to a normalized employment after passing through an insertion position.

Albert Alberich

Direct fashion re-.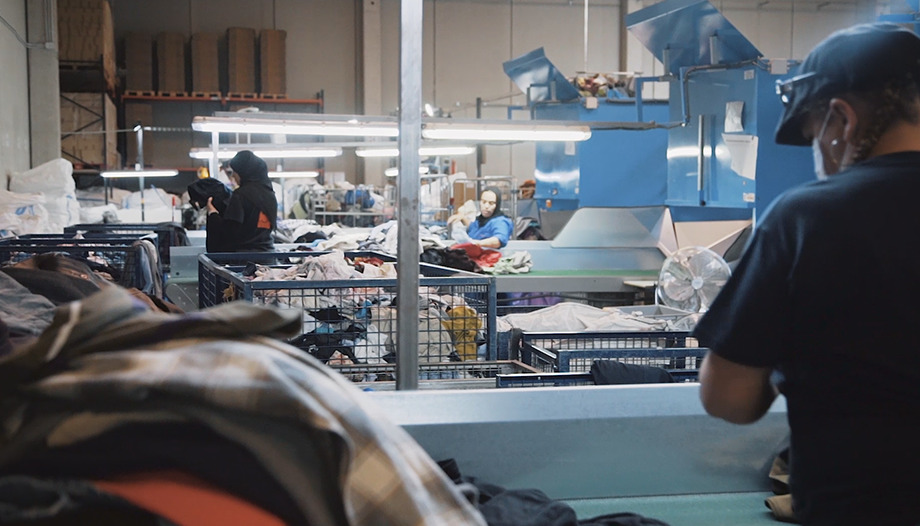 -It is estimated that 80 billion new garments are bought every year in the world, are we aware of what is behind each press in terms of labor, working conditions, water consumption, etc., do we only give "what we no longer wear, because it is old or torn"?
The textile industry has not stopped growing in recent years, and with it the depletion of the natural resources available to us. But the pandemic caused by COVID-19 and the long time we spend cooped up at home has allowed us all to reflect on many issues, among them the perpetual damage we do to the common home that shelters us.
As a result of this health, social and economic crisis, many people are more aware of the importance of consuming responsibly, incorporating sustainable habits in your life and being able to offer a second chance to those clothes we no longer need by donating them in our garbage cans.
- In recent years, we have seen the expansion of Moda Re points of sale and agreements with companies such as Inditex or Decathlon. Is there a greater awareness, from the textile industry, of the need to promote work, people and ecology with this type of project?
Yes, little by little the awareness that consuming consciously and responsibly can generate a social and environmental change is permeating our society, and proof of this is that today we already have more than 115 fashion re- stores throughout the Peninsula and the Balearic Islands.
In addition, since May, through an agreement with Alcampo, Moda re- has launched five used clothing sales areas in Alcampo hypermarkets (Sant Boi, Centro Comercial Diagonal Mar, Sant Adrià de Besòs, Sant Quirze and Fuenlabrada), where second-hand garments in perfect condition can be purchased. This pioneering initiative allows garments to be given a second chance, while at the same time creating a level playing field between second-hand and the rest of the hypermarket's new consumer products. The aim is for these sales areas to reach the 70 Alcampo hypermarkets throughout Spain by 2023.
All this means taking a further step towards the circular economy, waste reduction and raising awareness of the importance of textile reuse, as well as favoring the social integration of people at risk of social exclusion.
- Now that we are in "change of season" many of the recycling garbage cans in our cities are full. Two questions arise from this: do you think that more and more people are getting to know the work of Moda-re? and, on the other hand, do you think that Moda-re can also help to raise awareness about the overabundance of clothes that we sometimes have at home and could be useful for other people?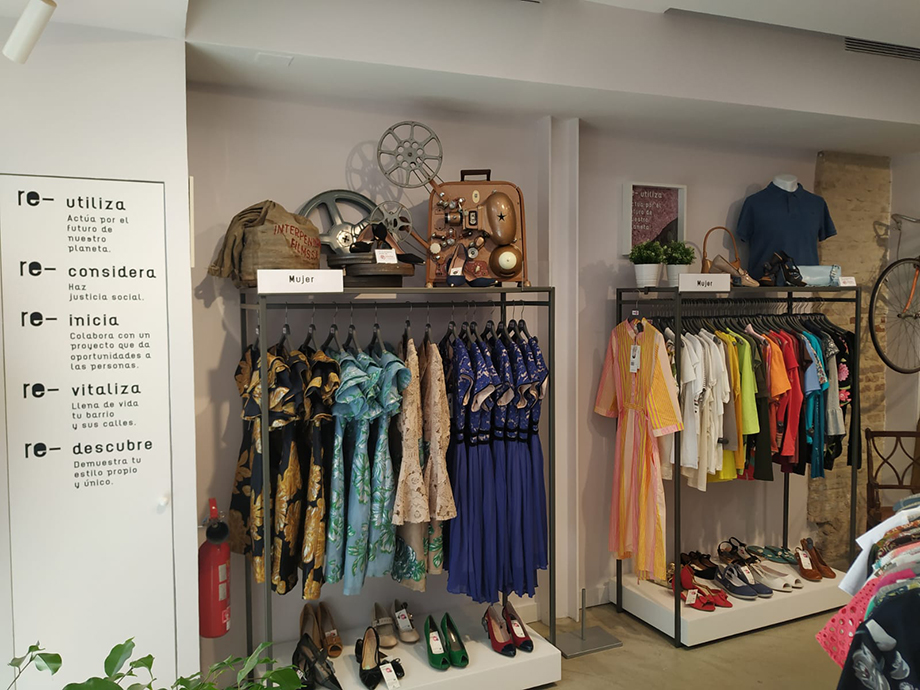 Each closet change means a massive donation of garments in our garbage cans, and it is true that the collection figures continue to increase, which we greatly appreciate because it allows us to continue improving our social and environmental impact.
But beyond our collection figures, we need to be aware of the textile waste we generate, clothing also pollutes and much of it does not have the good fortune to end up in plants like ours, where they are all given a sustainable end.
We believe this is a good time for all of us to learn to live with a social conscience, so why not start by learning about the positive impact of second-hand fashion re-consumption? There are many people around the world who, as a result of this pandemic; who, as a result of stopping, thinking and acting, are already changing their textile buying habits and are taking the impact of their purchases on health, society and the environment more and more seriously.
Our goal is that the population knows Moda re- for all that it encompasses. We are not just containers for Caritas, nor are we just second-hand stores. We are employment insertion, social inclusion, care for the planet, giving a second life to clothes to reduce production rates ... in short, leave behind the current fast fashion model and offer the market a sustainable alternative like ours, promoting responsible consumption and circular economy for the benefit of the environment and society.